Btw, today is the last day you will be hearing from me until next Tuesday rolls around. I am very excited to inform you all that I will be spending most of the week at the
Michigan Womyn's Music Festival
again (it's been a couple years, and I am pretty much EXPLOSIVE with excitement).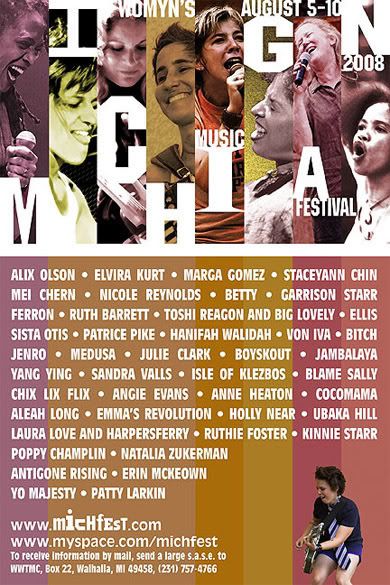 You have my promise that I will take many pictures, particularly of the food. The typical dinner menu consists of the following (and I haven't even GOTTEN to the breakfasts and lunches), so get to drooling:
Monday--Sandwiches


Tuesday--Nut Loaf


Wednesday--Chickpea Eggplant Spinach Ragout


Thursday--Burrito Night!


Friday--Savory Casserole


Saturday--Pasta Putenesca
To tide you over until next week, you can read about my past Michfest adventures
HERE
. Just pace yourself.
See you next week, my lovelies!