Thanks to everyone who entered my nippular contest! All your submissions were wonderful.
For those of you who haven't yet perved out on them in all their nekkid glory, do check out the sidebar for the full list of entries. I mean, talk about food porn. Literally. *drooling*
And now, at long last: The winners.
*DRUM ROLLLLLLLLLLLLLLLLLLLLLLLLLLLLLLLLLLLLLLL*
First place (three cookbooks) goes to..........
Mission: Vegan
for her nibble-licious cake-o-rific ta-tas!
As you can see below, these two little cakes reveal some DEFINITE mad skills in the arena of boob-crafting. I mean, SQUISH! And hubbahubbahubba! And *bow-tie spinning while smoke pours out of ears*
It's truly hard to believe that these babies are actually made out of cake!
-AND-
Second place (one cookbook) goes to................
Bok Choy Bohemian's
juicy pair of beet-salad boobies for creativity and avant-gardeness!
She even made a little bikini for them
when they're feeling modest--hee: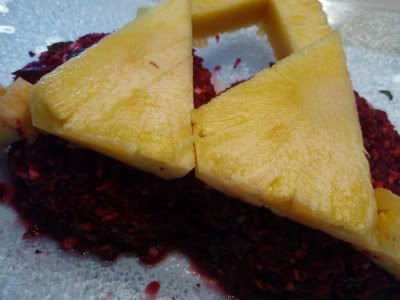 You ladies both have WONDERFUL racks, so thanks for sharing!
*Round of applause*
And thanks to my friend P who selected our second place winner!
If you could both email me (my email address can be found
HERE
--I don't wanna post it cuz of the damn spammers) the following, I'll get a move-on to sending the cookbooks out to ya!
1. Address & email address.
2. Mission: Vegan: Your top 7 choices, in order.
3. Bok Choy: Your top 4 choices, in order.
I have a total of 5 contest winners (3 from Cleveland Veganz) that I'm trying to sort out prizes for as well, so it's gonna take a bit of figuring out who gets what. My goal is to send you both at least one in your top 3.
Here's the list!
Vegan Meals for One or Two
The Vegan Cookbook
Vegan Planet
The Single Vegan
Simply Vegan
Vegan Handbook
Moosewood Cookbook
Still Life with Menu
Vegetable Heaven
Passionate Vegetarian
Moosewood Restaurant Low-Fat Favorites
Vegetarian Planet
Moosewood Restaurant New Classics
Sundays at Moosewood Restaurant
Moosewood Restaurant Cooks at Home
Moosewood Restaurant Daily Specials
Horn of the Moon Cookbook
CONGRATS AGAIN, BREAST GENIUSES!